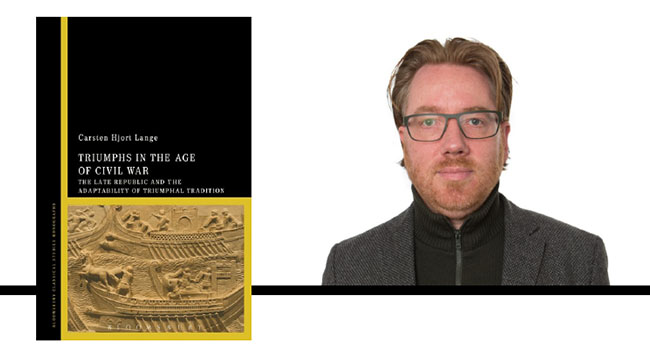 Invitation - Doktordisputats: Carsten Hjort Lange
Det Samfundsvidenskabelige Fakultet ved Aalborg Universitet har antaget den af Carsten Hjort Lange indleverede afhandling, 'Triumphs in the Age of Civil War: The Late Republic and the Adaptability of Triumphal Tradition' til offentligt forsvar for den filosofiske doktorgrad (Dr. Phil.).
Time
17.11.2017 kl. 12.30 - 18.30
Description
Forsvaret foregår på engelsk og finder sted:
Fredag den 17. november 2017 kl. 12:30
Kroghstræde 3, lokale 1.104 (Auditorium), Aalborg Universitet

Afhandlingen bedømmes af et sagkyndigt udvalg bestående af:
Professor Christopher Smith, University of St Andrews
Professor Olivier Hekster, Radboud University
Professor MSO Iben Fonnesberg-Schmidt, Aalborg University
I den anledning inviterer Institut for Kultur og Globale Studier kolleger, studerende, familie, venner og samarbejdspartnere til at overvære den offentlige forsvarshandling samt deltage i den efterfølgende reception.
Af hensyn til arrangementets afvikling bedes man tilmelde sig receptionen senest den 10. november på tilmelding@cgs.aau.dk.

Download invitationen

Best regards,

Marianne Rostgaard
Head of Department
Department of Culture and Global Studies
Aalborg University
Host
Department of Culture and Global Studies, AAU
Address
Kroghstræde 3, lokale 1.104 (Auditorium), Aalborg Universitet
Registration Deadline
10.11.2017 kl. 00.00
Register at