Invitation to book presentation: 'Podemos and the New Political Cycle'
The economic and political crisis in Europe has intensified the debate about the relations between citizens and politicians and how new ways of doing politics could be developed.
Time
28.02.2018 kl. 14.30 - 16.15
Description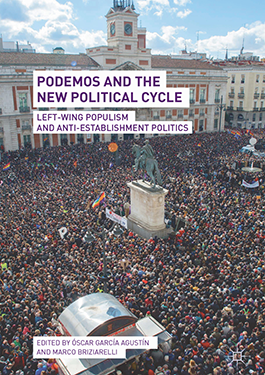 The book 'Podemos and the New Political Cycle. Left-Wing Populism and Anti-Establishment Politics', edited by Óscar García Agustín and Marco Briziarelli, explores how the Spanish party Podemos operates as both an agent and product of political cycles in the Spanish and European contexts.
The participants are Anne-Dorrit Harris (municipal electoral candidate from Alternativet, The Alternative), Lasse Olsen (municipal executive, from Enhedslisten, The Red-Green Alliance) and Óscar García Agustín (co-editor of the book).
All students and emplyees at Aalborg University are welcome!
Host
DIR - Research Group on Development and International Relations and SIS-Spansk
Address
Kroghstræde 3, room 3.117, 9220 Aalborg East