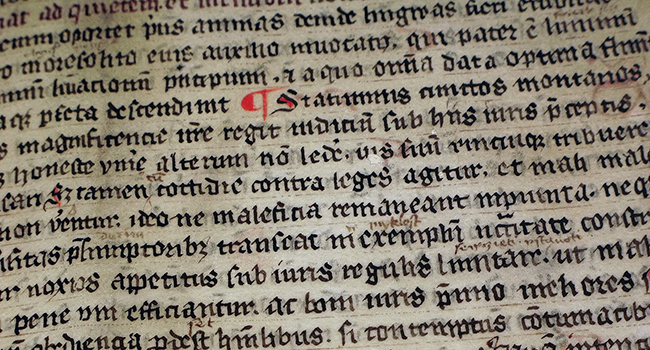 Invitation to the conference 'Papal Communications: Responses and Receptions (c.1100-1300)'
A crucial instrument of maintaining and extending papal authority in the Central Middle Ages was the ability of popes and the papal curia to effectively communicate with a wide and diverse range of peoples, institutions, and cultures.
Time
28.06.2018 - 29.06.2018
Description
This conference examines this important and expansive topic from the perspective of the recipients and focuses on the ways in which different local communities responded to and engaged with these papal messages.
Our conception of papal communications is broad and varied. We encourage submissions that analyse papal messages in a range of media, verbal and non-verbal, from a variety of disciplines, and in a broad set of geographic contexts that include the Byzantine and Islamic worlds as well as Latin Christendom between the years 1100 and 1300.
Several questions and issues will be central to this conference. For example, to what extent did the papacy modify its communications according to the type of audience? Or did the medium of the message trump issues of receivership? Equally, how did recipients respond to different modes of papal communication? How did various groups imitate, mock and reject papal messages?
Above all, we are interested in the patterns that may emerge concerning different types of communities and cultures, and in varying geographic locales across the period in question. Our aim is for individual papers to work on a precise, local-scale that will allow us to trace wider strands in the communication and response to papal messages during this period.
Please submit abstracts of no more than 400 words to Dr Iben Fonnesberg-Schmidt (imfs@cgs.aau.dk) by 15 February 2018. We request that all papers are delivered in English. The conference will be held in Aalborg, Denmark, on 28-29 June 2018. The number of conference spaces is limited; abstracts are by the organisers who will inform you of their decision no later than 15 March 2018.
This conference is hosted by the Department of Culture and Global Studies at Aalborg University; it is part of a collaborative and interdisciplinary project ('Papal Communication and Authority in the Central Middle Ages') supported by the Danish Research Council for Independent Research (DFF-YDUN grant). Accommodation will be provided as well as some financial support for travel.

Conference programme
Thursday 28 June 2018
12.00-13.00
Lunch and registration
13.00-13.10
Welcome: Iben Fonnesberg-Schmidt (Aalborg University)
13.10-13.45

Studying papal communication and its reception

A general framework for studying papal communication in the Middle Ages
David d'Avray (University College London)

Chair: Nora Berend (University of Cambridge)

13.45-15.15

Gifts and gift-giving

Difficult gifts: gifts to and from the popes in thirteenth-century England
Lars Kjær (New College of the Humanities)

Papal textile gifting in the late thirteenth century – actors, objects, responses
Christiane Elster (Bibliotheca Hertziana)

Respondents: Brenda Bolton (University of London), Kim Esmark (Roskilde University), and Iben Fonnesberg-Schmidt (Aalborg University)

Chair: Lucy Donkin (University of Bristol)

15.15-15.45
Coffee
15.45-17.30

Papal letters and seals: uses and responses

A letter from the pope – what next?
Christoph Egger (Universität Wien)

Papal bulls, Paris masters, and crusade preaching, c.1187-c.1221
Jessalynn Bird (Saint Mary's College, Notre Dame)

Getting an impression: thirteenth-century curial seals and their reception
Julian Gardner (University of Warwick)

Chair: Barbara Bombi (University of Kent)

19.30-
Conference dinner

Friday 29 June 2018
9.15-10.30

Constructing and questioning papal authority I

Communication and the construction of papal authority in twelfth-century France
Jeffrey Wayno (Columbia University)

The chaplains of Gregory IX in the struggle against Frederick II in Lombardy and Patrimonium Petri
Caterina Cappuccio (Bergische Universität Wuppertal/Università Cattolica del Sacro Cuore, Milano) and Alberto Spataro (Università Cattolica del Sacro Cuore, Milano/Albert-Ludwigs-Universität Freiburg i.Br.)

Chair: Jessika Nowak (Universität Basel)

10.30-11.00
Coffee
11.00- 12.15

Constructing and questioning papal authority II

The rhetoric and reality of Roman authority in bishops' books, c.980-c.1150
Sarah Hamilton (University of Exeter)

Popes and peace at Augsburg cathedral chapter during the investiture contest: the marginalia of Munich, Bayerische Staatsbibliothek Clm 3739
Erik Niblæus (Durham University)

Chair: Maureen Miller (University of California Berkeley)

12.00-12.45

The popes and the papacy seen by medieval historians

Papal communications and historical writing in Angevin England
Michael Staunton (University College Dublin)

Respondents: Torben Kjersgaard Nielsen (Aalborg University) and Emil Lauge Christensen (Aalborg University)

Chair: Gesine Oppitz-Trotman (Aalborg University)

12.45-14.00
Lunch
14.00-15.15

Responses to papal rituals and ceremonies

The view from the edge: extra-curial clerics' interpretations of ritual and law in late-twelfth century papal assemblies
Danica Summerlin (University of Sheffield)

Rome's new pope: King Ladislaus of Naples and the cooptation of papal ritual during the Great Western Schism
Joëlle Rollo-Koster (University of Rhode Island)

Chair: Pascal Montaubin (Université de Picardie-Jules Verne, Amiens)

15.15-15.45
Coffee
15.45-16.30

Papal sermons: performance and responses

Panel discussion

Christoph Maier (Universität Zürich)
Jessalynn Bird (Saint Mary's College, Notre Dame)
Christoph Egger (Universität Wien)

Chair: Jan Vandeburie (University of Leicester)

16.30-16.45

Concluding remarks and discussion

Chair: Iben Fonnesberg-Schmidt (Aalborg University)
Download the conference programme


Host
Department of Culture and Global Studies at Aalborg University
Address
First Hotel Aalborg, Rendsburggade 5, 9000 Aalborg, Denmark