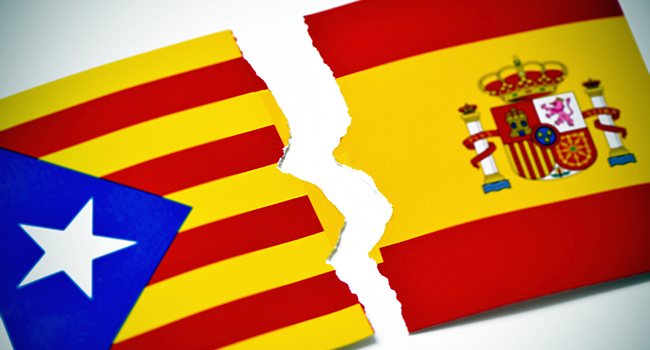 Invitation to workshop on "Exploring the Catalan Crisis, what is next for Spain?"
What is occurring in Catalonia (and Spain) in this moment of negotiations and vivid civil society organization reflects some of the main problematics of contemporary society: separatism, nationalism, changing (liquid or floating) identities, reactions to globalization, Europeanism, etc.
Time
21.03.2018 kl. 09.30 - 16.00
Description
Therefore, in order to provide both the workshop and the special issue with a clear and coherent focus, the discussions will be guided by four interconnected themes:
The redefinition of the nation;
The Catalan (and the Spanish) question, what next?;
Shaping of (new) collective identities and
civil society movements and their positioning.

Program
| | |
| --- | --- |
| 09.30-10.00 | Welcome |
| 10.00-10.45 | Ignacio Brescó (Aalborg University): Discussing ethnos, polis, demos and cives in the context of Spanish politics |
| 10:45-11.30 | Bue Rübner Hansen (Århus University) "Winter in Catalonia": The Rise and Fall of the Epic of Catalan Independence |
| 11.30-12.15 | Martín Portos (Scuola Normale Superiore): Not a bourgeois story anymore? The class basis of support for independence and the Catalan procés |
| 12.15-13.00 | Lunch break |
| 13.00-13.45 | Malayna Raftopoulos and Óscar García Agustin (Aalborg University): Resignifying the nation: Reconstructing historical memory and national identity during the Catalan (and the Spanish) crisis |
| 13.45-14.30 | Paolo Cossarini (Loughborough University): People's quest for sovereignty: Humiliation, victimisation, and banal populism in the Catalan/Spanish clash |
| 14.30-14.45 | Coffee break |
| 14.45-15.30 | Fernando León Solís (University of the West of Scotland) Internationalization and Domestication of the Catalan Crisis |
Organised by Malayna Raftopoulos and Óscar García Agustin, the Research Centre on Development at International Relations (DIR)
Host
Research Centre on Development at International Relations (DIR), Department of Culture and Global Studies, Aalborg University
Address
Kroghstræde 7, Room 061, Aalborg University