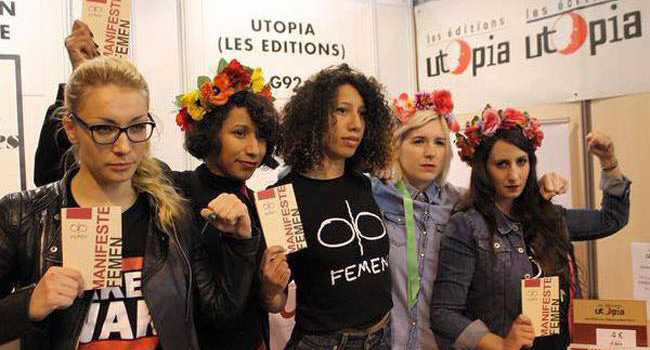 Diversity and tensions in Nordic feminist mobilization
All interested are welcome!
Time
26.08.2016 kl. 10.00 - 28.08.2016 kl. 15.00
Description
Call for abstracts and papers


Deadline for abstracts of 300 words:
15 June 2016

Deadline for registration:
15 July 2016

DEADLINE FOR PAPERS:
22 AUGUST 2016
Submission to Helene Møller Larsen: mollerlarsen@cgs.aau.dk
► Please see More about The Future of Feminisms in the Nordic region Network (FFNN).
We welcome papers which establish the state of the art of feminism in the Nordic region, with a focus on feminist mobilization and topics such as a third wave; state feminism versus market feminism; sexuality; religion; gender equality; intersectionality; difference /sameness and social justice.
During this workshop we would like to discuss (preliminary) empirical analysis about the Nordic Forum 2014 (including Nordic Forum in Oslo 1988 and Åbo 1994) and related mobilizations with special focus on intersectionality/diversity and sameness of participants; of topics; of coalitions with other social movements; of visions and notions.
We would also like to address methodological issues which enable us to refine and specify key research questions; design comparative, qualitative research; establish units of comparison; operationalizations of women's movements/feminist activism in relation to possible publications and applications.
Another topic concerns the researcher as an in/outsider to women's movements/feminist activism and translations from research to policy input.
We will end the workshop with a discussion of the remaining workshops and of publication and application strategies.

Possible questions for papers could include:
Waves of feminist mobilization – do we recognize a third wave? Do feminist activists identify as third wave feminists?
What new types of feminist initiatives and politics are being invented? What types of alliances?
Given the transformations of the welfare states in the Nordic region (and elsewhere), can a 'Nordic model of welfare' be recognized today and, in the affirmative, what are the roles of (state) feminisms and feminist movements in the practices of this model?
What does feminism (and gender equality) mean to women in political parties and in other social movements?
How are feminisms responding to and reorienting in a context which includes both the successful expansion of women´s public location and leadership within the fields of education, employment and politics and the current labour market characterized by increasing precariousness, and by ethnicized and racialized hierarchies?
How do feminists respond to issues of social reproduction regarding the cuts within welfare institutions and the continuing lack of balance between women and men regarding these topics?

Registration
Deadline for registration: 15 july 2016. Please sign up here. (Please note that the registration form does not work in Internet Explorer. Please use another browser).

Keynotes
The workshop provides two keynote speeches from Elizabeth Evans and Elisabeth Eide.

Elizabeth Evans
Dr. Elizabeth Evans is currently Lecturer in Politics at the University of Bristol as of 1st September she will be Senior Lecturer in Politics at Goldsmiths, University of London. Her research focuses on comparative gender and politics and she has published widely on feminist activism and issues of women's representation.
See her latest publications.
With the title 'Sisters, Sluts and Solidarity: Feminist Activism in the US and UK' Elizabeth Evans' keynote speech will draw upon extensive fieldwork with feminist activists in the US and UK in order to address some of the recent controversies in feminist activism; especially as they relate to debates around intersectionality and solidarity in a neoliberal context.

Elisabeth Eide
Elisabeth Eide is Professor of journalism at the Department of Journalism and Media Studies at Oslo and Akershus University College. She is a media researcher and author of books and articles about among others the journalism of gender, climate and war.
See her latest publications.
At this workshop Elisabeth Eide gives a keynote in capacity of co-organizer of Nordiskt Forum Oslo in 1988 and the editor of the daily journal published during the conference. The title of her keynote is: Against Many Odds - A Nordic Feminist Experiment. Subtitle: A Conference Newspaper and Its Legacy.
Elisabeth Eide recalls: "As I look back on this part of my 1988 experience now, it is both full of seriousness and anecdotes. I have the actual newspaper copies, and would gladly bring them along, to enable us to discuss genre. The Nordic transnational cooperation at the outset of the digital age, was an important experience full of humorous and rather painful experiments. It is actually a miracle that we managed to churn out a newspaper each day! But there were also a lot of underway deliberations linked to our specific experiences, tears, satire and laughter." She will also try and analyze this feminist-editorial approach in hindsight, helped by newer developments in gender theories.

Host
The Future of Feminisms in the Nordic Region Project
Address
Aalborg University Copenhagen, A. C. Meyers Vænge 15, 2450 Copenhagen SV, Denmark | Rooms: Acm15 1.043, Acm15 1.042, Acm15 1.009, Acm15 1.005