For aller første gang i nordisk litteraturvitenskap: Et fellesnordisk open access-tidsskrift som utelukkende fokuserer på lyrikk i Norden.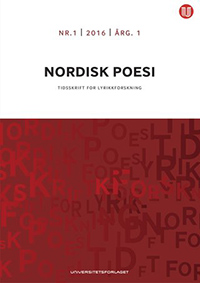 Det første nummeret av Nordisk poesi. Tidsskrift for lyrikkforskning inneholder artikler av
– Unni Langås om Tua Forsströms diktning
– Mats Jansson om ekfraseteori med eksempler fra svensk lyrikk
– Michael Kallesøe Schmidt om danske forfatterpoetikker og sjangerspørsmålet
– Anders Olsson om Gunnar Ekelöfs dialog med Edith Södergran
Dessutten inneholder det første nummeret anmeldelser av bøker om Olav H. Hauge, Alf Prøysen, dansk samtidspoesi, kvinnelige salmediktere og Jonathan Cullers Theory of the Lyric.
Nordisk poesi. Tidsskrift for lyrikkforskning er et vitenskapelig tidsskrift spesielt knyttet til lyrikk som diktart og tar for seg lyrikk fra alle de nordiske landene, dvs. lyrikk skrevet på dansk, svensk, islandsk, færøysk, norsk og finsk. I Norden skrives det imidlertid lyrikk også på en rekke andre språk, bl.a. samisk, grønlandsk og ulike innvandrerspråk, og også denne lyrikken er emne for tidsskriftet. Både skriftlyrikk og ulike former for muntlig lyrikk er naturlige studieobjekter i tidsskriftet, inkludert sanglyrikkens ulike former. Alle litteraturhistoriske epoker er aktuelle for tidsskriftet, og lyrikkteori er også et sentralt område.

Tidsskriftet utgis av Universitetsforlaget i samarbeid med Høgskolen i Hedmark.
Alt innhold i tidsskriftet er åpent og gratis tilgjengelig for alle
(open access).

Klikk her for å lese første utgave av tidsskriftet på Idunn.
For ytterligere informasjon, kontakt en av redaktørene:
Ole Karlsen, Høgskolen i Hedmark, ole.karlsen@hihm.no, tlf. 62592706 / 90867933
Louise Mønster, Aalborg Universitet, louise@cgs.aau.dk
Hans Kristian Rustad, Høgskolen i Hedmark, hans.rustad@hihm.no